Where to stay in China - Banyan Tree Yangshuo
I am confident to say that there are few resorts in the world have better locations than Banyan Tree Yangshuo. Located just outside of Yangshuo, the resort is blessed with the spectacular backdrop of the limestone Karst Mountains and Li River. The entire resort was designed under the influence of traditional Guangxi architecture. When we walked around the resort, we felt like living in a real-life Chinese watercolour painting. Every corner we looked was just picture-perfect beautiful.
Our one-bedroom villa has a spacious bedroom with a large balcony overlooking a breathtaking karst mountain view. The gorgeous bathroom is equipped with a giant round bathtub in the middle of the room, a shower room and a toilet. The entire suite's interior has charming oriental touches. Being a true spa resort, Banyan Tree Yangshuo provide our suite every day with different combinations of essential oil and incents, which fill out suite with the most relaxing and pleasant scents. One of the best things about Banyan Tree resort is that you can find an extensive selection of amenities for her and him by the washing tubs. Toothbrush, toothpaste, sewing kit, a hairbrush for her, a comb for him, spa-level washing and shower liquids, and more. In addition, there are room slippers for indoor, slippers for outdoor, thick bathrobes for indoor use, thin bathrobes for outdoor use, bath salt, and more. I always say when you check into a Banyan Tree resort, all you need to bring are your clothes and shoes. Everything else will be well taken care of. Every day, the hotel will refill our fruit baskets with local tropical fruits, cookies for afternoon tea and little souvenir that reminds us of the local culture.
The breakfast at Ming Yue restaurant is definitely one of the best we have never had. A large selection of Western and Chinese dishes give the guests plenty of choices to choose from. Something sweet, something savoury, something hot, something cold, something Asian, something Western, something raw, something cooked, something traditional, something contemporary... You name it, they have it! The Chinese restaurant Baiyun has really delicious Chinese food, with some dishes from the local Guangxi cuisine. But to me, it is the view that you really don't want to miss.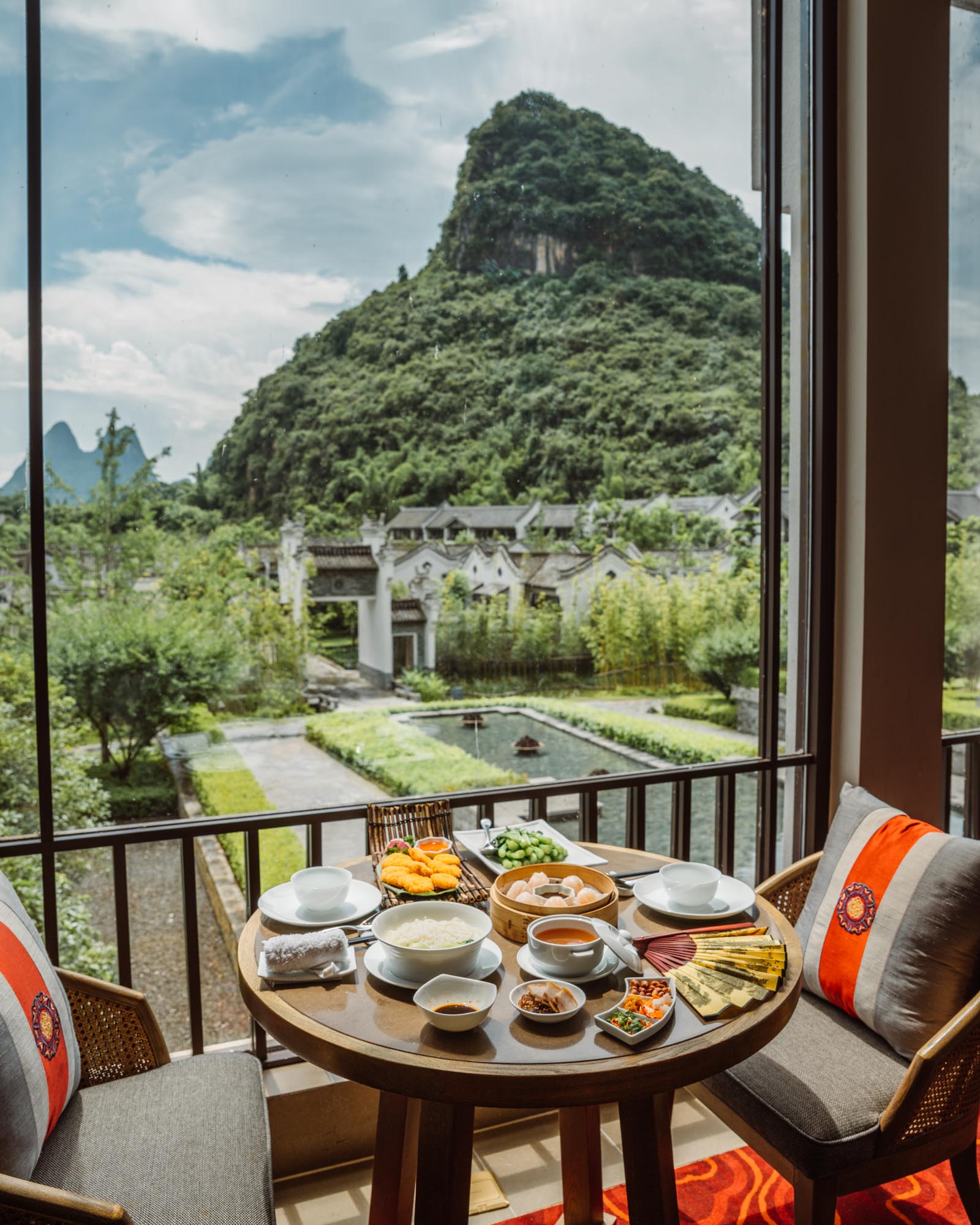 If there is one thing you don't want to miss during your stay in the Banyan Tree resort, any Banyan Tree resort, that would be the spa!!! When you enter their spa area, you are basically walking into a sanctuary for senses. There was the scent of burning essential oil and incents in every treatment room; fresh lemon and lemongrass in the steam room; the robes, slippers, and single-use underwear to help me feel comfortable; the soft-spoken and friendly therapist puts me into ease; and more. I felt physically, mentally and spiritually renewed after the treatment.
There is so much to see and explore near Yangshuo and Banyan Tree Yangshuo knows them all. They organise many interesting customized tours for the guests, such as Li River Bamboo Raft, where the guests can take a private bamboo boat from the resort and cruise down the river and enjoy the beautiful karst mountains. And there is also the visit to Xianggong Hill, where you can see the Li River winding between rolling hills. If you are more into the cultural activities, you can also learn about Chinese painting, candle making (in the resort), and etc. I will do a separate blog post on what to see around Yangshuo, so stay tuned!
If you ever want to visit Yangshuo, I highly recommend you to stay at Banyan Tree resort for the best experience you can find in the region.